Powerful data for your car
RaceCapture is a powerful lap timer, data logger and telemetry system for your race or street car.
RaceCapture is Autosport Labs' premier data logger designed for track day enthusiasts. Analyze your lap times, record speed, acceleration, yaw and engine data. Display predicted lap time and sensor values on an Android dash in-car. Send data in real-time to Podium to have your friends watch you race, live! Compare and share your lap data with friends online. Learn how to drive faster now with predictive lap timing, not after you finish your sessions.
Predictive lap times and more with the RaceCapture app
The free Race Capture app provides a fast, real-time view of your race car's data, including predictive lap times, sensor alerts and a customizable dashboard. Try it today: Download from the Google Play Store or the Amazon App Store!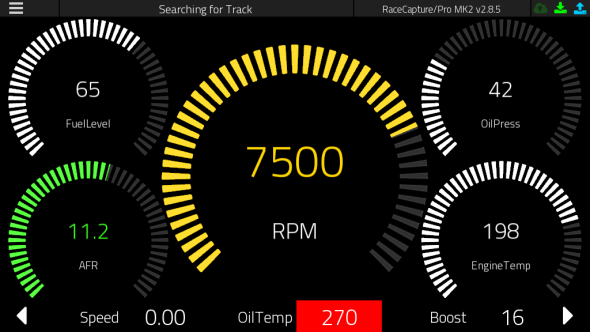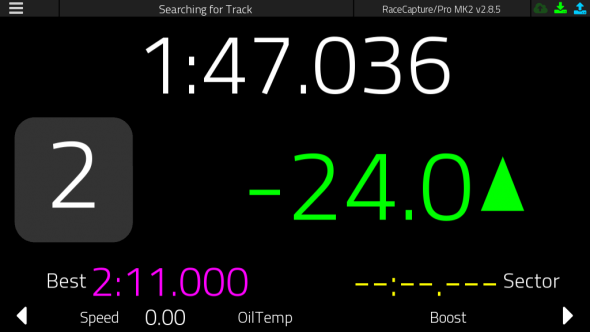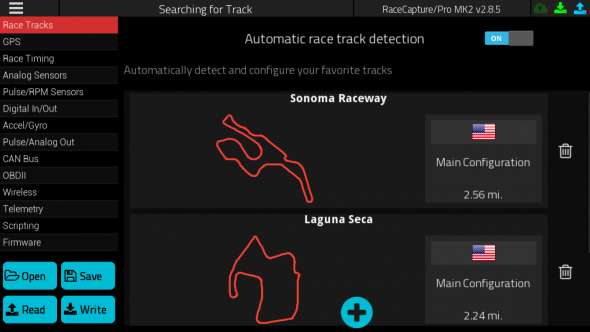 Log
Predictive lap timing with the built-in high performance GPS
3 axis accelerometer to measure G-Forces in 3D
3 axis Gyro to measure Yaw, Pitch and Roll
CAN bus or OBDII data – connect directly to 2008+ CAN/OBD-II ports or older cars with the legacy OBDII adapter
All in a tiny, easy to install case
What's in the Box
RaceCapture requires a phone or tablet for displaying and recording data.
Options
Legacy OBDII Adapter
Got a car made before 2008? No problem! Select the 'Include Legacy OBDII Adapter' option to enable RaceCapture to connect to your car and record additional data like engine temperature and more! (Sensor support varies by make and model)
Specifications
Inertial Motion Unit

Accelerometer Channels
3 (X/Y/Z) (2G, 4G capable)
Gyro
3 (Yaw/Pitch/Roll) (1000 degrees/sec)
Magnetic compass
1 (Bearing) (device capable of 3) (compass available in 2.9.x firmware)

GPS

GPS Type
Internal active antenna
GPS Sample rates
5/10/25/50Hz capable (10Hz recommended, 50Hz requires optimal conditions)
GPS accuracy
2.5M CEP

Configuration Capacity

Auto-detect track database
unlimited
Sectors per track
20
Channel support
50

Physical

Dimensions
3.5″ (w) x 2″ (h) x 1.5″ (tall) / 9x5x3.8 m(est)
Weight
5oz / 141gm (est)